May was such a good month for reading! I had experienced something of a reading slump when I entered May, but when the Penguin Modern Box Set arrived on my doorstep, I soon got to reading. Rather than rate and review all fifty of the short stories/collections in the Penguin Modern Box Set, I'm going to share my favourites (4* and above) and my least-liked (2* and less). Let's start with my faves.
Now let's move on to my least-liked books from the Penguin Modern Box Set. Here we go...
If you're considering purchasing any of the books from the Penguin Modern Box Set, hopefully my favourites and least-liked's will give you an idea of which ones to buy and which ones to avoid!
Cat Person, by Kristen Roupenian, is a really funny short story about love, sex and dating. It made me giggle, and I really enjoyed the illustrations that accompanied the story.
Rating: ****
This month, I finally got around to reading Rupi Kaur. And suffice it to say, I loved Milk and Honey so much that, upon finishing the book, I immediately ordered Rupi's second poetry collection, The Sun and Her Flowers.
Rating: *****
Ahead of the exciting news that Jodi Picoult will be releasing a new novel in November (I think), I finally got around to reading her latest novel, Small Great Things. And I was blown away. An amazing, if uncomfortable, read that really had me questioning my own beliefs and values, my own view of race. Her best novel, by far.
Rating: *****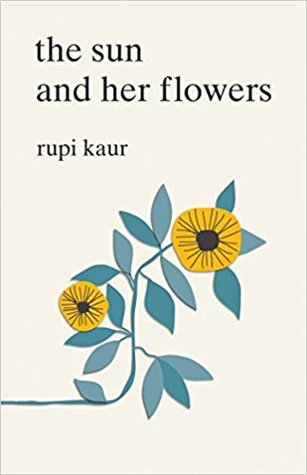 I was a little disappointed in The Sun and Her Flowers, Rupi Kaur's second poetry collection. It definitely wasn't as powerful as her first collection, Milk and Honey, but I enjoyed it nonetheless.
Rating: ****
I really wanted to read Mindhunter before I embarked upon watching the Netflix original series. And I'm glad I did, because I loved the book. It's just made me even more excited to watch the series now and, of course, compare it to the TV series! My only complaint? It was a little dry in places, but as it's non-fiction I think that's somewhat to be expected. That certainly wasn't enough to dampen my enthusiasm though!
Rating: ***
I read A Mother's Goodbye, by Kate Hewitt, as I was taking part in the blog tour ahead of the release of this book. It was such a moving, emotional story that left me close to tears by the end. You can read my full review here.
Rating: ****
May, it seems, was poetry month for me. I saw this poetry collection in Waterstones and picked it up on a whim. We all know I love an impulse buy! The Princess Saves Herself In This One, by Amanda Lovelace, turned out to be a fantastic read, and I'll be picking up Amanda's second poetry collection very soon.
Rating: ****
Phew, I wasn't wrong when I said May was a really good month for reading, was I? I'm so far ahead of my GoodReads Reading Challenge right now that I'm not putting too much pressure on myself to read ten plus books a month anymore. This month, I've got some books I'm really excited to read (House Swap, and The Craftsman, I'm looking at you.) I'm also embarking on a blog collaboration with the lovely Steph, which will involve me reading her top three favourite books whilst she reads mine. We'll then publish on our own blogs our review, plus each other's review and thoughts on what makes it their favourite book. Steph's three favourites that I'll be reading this month are; Dracula by Bram Stoker, Wuthering Heights by Emily Bronte, and The Hate U Give by Angie Thomas.
What have you read recently?