Well, that's November over and done with. It's definitely starting to feel like Christmas, and it's only going to get worse from here! The start of December seems, to many, to mark the start of Christmas. I suppose it is nice to make the festivities last all month, as Christmas is over so quickly, but I'm something of a scrooge. If I put up any Christmas decorations at all, it won't be till a week or two before. And they come down before the New Year! Anyway, I'm already sick of hearing, and talking, about Christmas, so let's talk about what I've been loving in November.
We got our wedding photos back in November, which was so exciting! We've been married for two whole months now, and the wedding is starting to feel like a distant memory. It was so lovely to relive the whole day through the photos. Our wonderful photographer captured our wedding day perfectly, and we're so pleased with the photos. There'll be a dedicated post with more wedding photos coming soon, but this is just a sneak peek! I've loved sharing our photos with our family and friends, and sharing their delight in our photos too!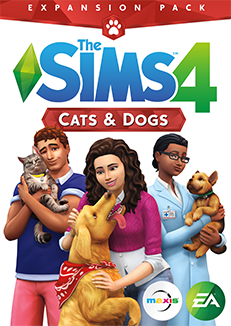 A few weeks ago, The Sims 4 Cats and Dogs was released, and I rediscovered my love for The Sims 4. Prior to the release of this expansion pack, I'd actually been playing The Sims 2, because I love the pets element in TS2, but I haven't touched TS2 since Cats and Dogs was released. I'm living my best life as a veterinarian, with more animals than children in our house! Haha.
I bought these tumblers from Asda a month, or two, ago. I love using them, for a small glass of milk or milkshake, though. They encapsulate my love of unicorns, and I love giving them to guests when they ask for a cold drink!
I've had ALL the feels watching The Secret Life of The Zoo. I don't know why I didn't watch it sooner, but it was only when I saw an advert for the new season that I decided to go back and watch all three previous seasons! I always have to have a packet of tissues handy when watching this show though; there's always tears, whether happy or sad!
I'm very late to the party with this, but I finally jumped on the Essie bandwagon. I hate painting my nails. They always look like a five year old was let loose with a paintbrush. And they never last long. Within a day, at best, I've chipped at least one. So I decided to give Essie polish a go, as I've heard such good things about it. And I'm impressed! This polish has real staying power, and looks lovely. My only complaint is the price. I won't be buying new colours too regularly, at something like £8.99 a pop. But they make for a nice treat, now and then!
Can you believe, I got so wrapped up in the release of The Sims 4 Cats and Dogs that I totally forgot Taylor was bringing out her new album that same day? It's true. I only remembered, and immediately bought, Reputation on Sunday! It took a bit of getting used to, but I am loving her new album. So many great tracks, and I know a few of them by heart already from singing along in the car!
November was another quiet month. If you overlook my granddad being taken very ill and rushed into hospital. He was in hospital for nearly 2 weeks, but he's home now and doing much better. You can find out more about what I got up to in November in my Life Lately post - coming Wednesday!
What did you get up to in November?