Another month over already? We are barrelling towards Christmas and 2018, and I am so not ready for that. Oh, and did I mention, we'll be getting married in just 5 days time? Oh my god, time really needs to slow the fuck down. August was a great month for reading; I made my way through 11 books in total! So here's what I read in August, and what I'm planning to read in September.
White Lies, by Ellie Holmes, was the first book I read in August and boy, was it a doozy. A fantastic, gripping, thrilling read; I tore through this book in a matter of days. You can read my full review here.
Witch Dust, by Marilyn Messik, was a book I was really excited to read. A supernatural, spooky read; Witch Dust, unfortunately, did not live up to my expectations. It was still a pleasant and enjoyable read, though. You can read my full review here.
Rating: **
Persons Unknown, by Susie Steiner, was book two in the DS Manon series. A fact I didn't realise until after I'd read the book. There were moments in Persons Unknown where I felt like I probably would have understood the story better if I'd read the first book in the series. But it wasn't a huge problem, and I still enjoyed this gripping, thrilling, mystery.
Rating: ****
The Child, by Fiona Barton, is one of the best books I read in August. It would seem Fiona Barton is cementing herself as one of my favourite authors; both The Widow and The Child were fantastic novels. Even though The Child was a little predictable, it still managed to blindside me with only a few chapters to go! A brilliant read.
Rating: *****
When I first started reading The Marsh King's Daughter, by Karen Dionne, I wasn't sure I was going to enjoy it. It was so far removed from anything I've ever read before, that I really wasn't keen to start off with. But it picked up speed quite quickly, and I was soon so absorbed in the story that I just couldn't put the book down. It's hard to find a thriller that's unique and original, but that's exactly what The Marsh King's Daughter was. It's also one of my favourite books this year.
Rating: *****
I can't believe I've gone this long without reading anything by Karin Slaughter before. Yep, The Good Daughter is the first Karin Slaughter novel I've ever read. But it won't be the last. She's a fantastic writer, and has a huge list of published novels to her name for me to work through! Although I felt like the story in this novel had been dragged out too much, it didn't dampen my enjoyment one bit.
Rating: ****
The Adversary, by Emmanuel Carrere was a really unusual read. It's the true story of a monstrous deception, and I tore through the book in a matter of hours. It was chilling, even more than fiction, because it's all true. A really creepy read that left me feeling quite unsettled after turning the final page.
Rating: ***
Oh look, another book that's part of a series where I haven't read any of the previous books. Oh well, Stalker, by Lars Kepler, was an absolutely brilliant read. Super creepy, chilling and gripping. I found myself sneaking in a chapter whenever possible, as I just couldn't wait to read more. I'll definitely be reading more of Lars Kepler's novels.
Rating: ****
My Favourite Manson Girl, by Alison Umminger, held a lot of promise. I've read a few books about cults recently, Foxlowe and The Roanoke Girls, and love them. So I was stoked to read a book about the Manson family, even in fictional form. However, I found My Favourite Manson Girl to be quite boring, and not very well written. It got better about halfway in, but it wasn't enough to save this novel from being a disappointment.
Rating: ***
When I saw Dare To Dream, by Izzy Judd, in Tesco, I just had to grab a copy. My fiancé and I have been trying for a baby for nearly three years now, and are going through many of the same struggles as Izzy did in trying to conceive. So reading her account of her own struggles made me feel less alone, and gave me hope for the future. I'll definitely be reviewing this one in a future post, because it's a book that really meant a lot to me.
Rating: *****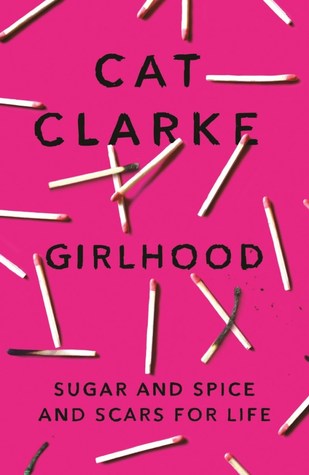 Fun fact: I read Dare To Dream, by Izzy Judd (above), and Girlhood, by Cat Clarke, in the same day. Two books, from cover to cover, in one day is a new record for me! I wasn't expecting much from Girlhood, which proved to be quite an easy, if creepy and chilling, read. Not bad, but not the best by a long shot.
Rating: ***
This month, I'm aiming to read ten books. If I do more? Great. I do have two weeks off work for our wedding and although at least 3 of those days off are going to be busy with my birthday visit to HP Studio Tour, wedding prep and wedding day, I should have quite a bit of time to cram in lots of reading. Here's hoping! These are the books on my TBR pile for September.
The Marriage Pact

by

Michelle Richmond
Final Girls

by

Riley Sager
Stranger In The House

by

Shari Lapena
Did You See Melody?
by

Sophie Hannah
Can I Speak To Someone In Charge?

by

Emily Clarkson
S.T.A.G.S

by

M.A. Bennett
After I've Gone

by

Linda Green
No Way Back

by

Kelly Florentia
What have you read recently?