I know I've said this before, on more than one occasion, but seriously; how the hell is it August already? I've been reading voraciously recently, and I finished a grand total of 10 books in July. That's pretty damn good, even by my standards. I've got so many great books on my TBR pile for August, and I can't wait to share them with you. But first, here's what I read in July.
The Girl Before, by JP Delaney, was one of my favourite books this year. A fantastic, original thriller full of suspense, plot twists, and a shock ending. I was glued to this book, and devoured it in just a few days. I can't rave about it enough; an absolute must-read!

Rating: *****
I followed The Girl Before up with Tina Seksis's The Honeymoon. A book that quickly surpassed The Girl Before to become my favourite book of 2017 (so far)! I have recommended this book to so many people, and I will continue to do so, because it really is a terrific, grisly read.
Rating: *****
I read some fantastic reads in July. The Dry, by Jane Harper, was one of them! I picked this up after reading a review of it on one of my favourite book blogger's blog; and I'm so glad I did. A fantastic murder mystery novel, it had me guessing as I read along; trying to second guess the ending. And although I was along the right tracks, I was pleasantly surprised by the shock ending!
Rating: ****
This book. Ugh. This book was not an easy read. And I'm hesitant to say it was a good read, even though it really was. But to describe a book that revolves around rape good, well, it seems kind of wrong. But All The Rage, by Courtney Summers, dealt with such a difficult subject in a remarkable way. So that by the end of the novel, I came away feeling not only emotionally drained, but also like I'd read something masterful. A must-read for anybody, in my opinion.
Rating: *****
Nod, by Adrian Barnes, is not my usual read. I stopped reading science-fiction and fantasy years ago, but when I read the blurb of Nod, I was intrigued enough to buy it. And I'm glad I did. A fantastic, eerie, creepy, gripping sci-fi novel that I devoured in just a day, or two, tops. I've found, in the past, that some science-fiction can be very samey. But Nod took a topic that's not exactly been done to death but isn't far off, and made it original.
Rating: *****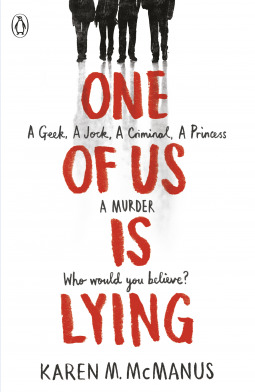 One Of Us Is Lying, by Karen M. McManus, is a YA novel I was really looking forward to. But, unfortunately, I was to be disappointed. I really couldn't immerse myself in this novel. I found it too confusing, as it switched back and forth between three/four characters frequently. I often lost track of whose point of view I was reading now, and what had just happened. But, that being said, I was pleasantly surprised by the ending; I did not see it coming, and it was very original, where I thought it would be very predictable.
Rating: ***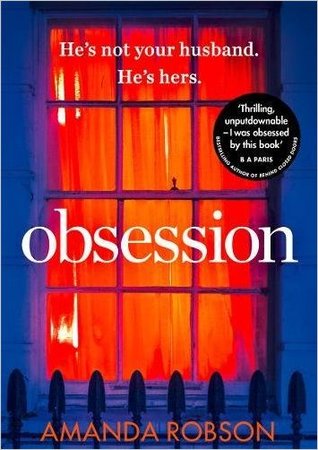 Obsession, by Amanda Robson, started out as quite a dull read. I didn't have hopes for it after reading the opening chapters, but persevered nonetheless. And I'm glad I did. Because Obsession became quite the gripping, exciting and emotional read. Sometimes it pays off to stick with a book, even if you don't think it's going to be that good!
Rating: ***
Shine, by Jodi Picoult, is an original short story featuring characters from Small Great Things, Picoult's latest novel. I think I would have enjoyed this short story more if I'd actually read Small Great Things first. But as it was, I had no real connection with the characters, so couldn't really get involved in what turned out to be the backstory to Small Great Things. Still an enjoyable, short read though!
Rating: ***
Alice and the Fly, by James Rice, is a book I won in a giveaway. I had no real idea what it was about. I admit, I did judge it a little bit by it's cover. Since I had no preconceptions of this book, I went in with an open mind. But whatever I was expecting, it wasn't what it turned out to be. Such an emotional, distressing read, that had me obsessively reading just one more chapter before bed every night. I loved it, and I'm so grateful to have been given the chance to read it!
Rating: ****
The Spawn of Lilith, by Dana Fredsti, is another book I won in a giveaway. Yep, I've been pretty damn lucky recently! I didn't give this book a fair chance when I first started it. I'd already kind of made up my mind I wouldn't like it, because it's fantasy and I can't remember the last time I read fantasy. So I started again, wiping my mind of any judgement, just enjoying the read. And I did enjoy it. I really enjoyed it. So much so, I'll definitely be getting the next book in the series (The Spawn of Lilith is the first book of three, I think). A pleasant surprise, then!
Rating: ***
Even though I read 10 books in July, I still think I'm being a little bit optimistic with my August TBR. Especially as I've started the month reading a book that wasn't even on the pile. Oops? Never mind. Here's what's on my TBR pile this month...
The Good Daughter
by

Karin Slaughter
Persons Unknown

by

Susie Steiner
The Child

by

Fiona Barton
The Marsh King's Daughter

by

Karen Dionne
Dare to Dream

by

Izzy Judd
The Adversary

by

Emmanuel Carrere
My Favourite Manson Girl

by

Alison Umminger
Sweet Little Lies

by

Caz Frear
White Lies

by

Ellie Holmes

(not pictured)
That's 11 books I'm aiming to read in August. Considering this is the last full month before our wedding, I'm not optimistic that I'll get through all these. There's just too much going on. But we'll see! Wish me luck :)
What have you read recently?